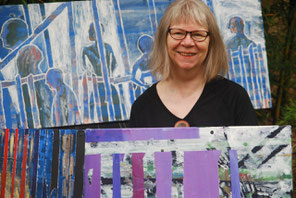 The exhibition of paintings by Tarja Ahokas called 'Boundaries and Beyond' has its official opening on Sunday 7 February at 2.30pm.  
It can be viewed from Friday 5 February to Sunday 28 February in Wan'din'in arts space Eumundi.
The paintings in 'Boundaries and Beyond' are artistic explorations of the concept of boundaries in its many facets.
Tarja says 'We often create boundaries around ourselves physically, emotionally or spiritually'.
Each of the paintings explores a variation of the concept of boundaries.
'Unleashed' presents a situation where no boundaries could be built to contain the radiation unleashed in Japan in 2011 by the effects of the tsumani.
'Letters from Brazil' explores a boundary of distance from a loved one in which written letters offer the only tangible connection between loved ones.
Tarja's works are very visceral and expressionistic, prompted by emotive impulse and desire to make sense of the world around her.
'I am influenced by ancient mythologies, experience of migration, felt connection to the land I inhabit and the diversity of life experiences had' she says.
This exhibition opens on Sunday 7 February and closes Sunday 28 February.