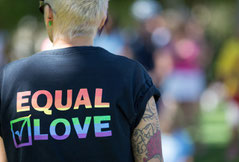 January 8 to 31 2016 will see a very special exhibition, marking an historic moment where activists from different causes came together as one in Noosa to fight for recognition and rights.
Earlier this year, the Noosa Love Parade Marriage Equality March and the Land Rights March were protesting separately on the day Tony Abbott PM came to Noosa for lunch. In a moving experience the two groups of marchers joined together in an impromptu protest.
Beautifully recorded by local professional photographers, the day's events have been collected to form the Rainbow Flag – Rainbow Serpent
Exhibition.
The exhibition bursts with passion and colour – contrasted against the dramatic backdrop of Noosa. From intimate candid portraits to busy crowd scenes the raw emotions of the day can be seen in the eyes of the march participants.
Hosted by the Sunshine Coast Rainbow Network with help from the public through a Pozible Crowdfunding campaign it is hoped that the exhibition will serve as a permanent reminder for the community to treasure and a moving tribute to the photographic skills of the various photographers.
All funds raised from the sale of photogrpahs will support the work of headspace Maroochydore.
Proudly supported by the Sunshine Coast Council's grants program.