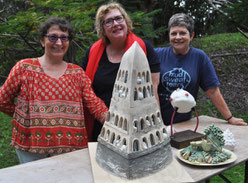 In this exhibition Visions³ contemporary sculptural artists Penny McIntyre, Allison Kryvoviaza and Domi Cohen link topics they feel passionate about with their backgrounds in ceramics.
McIntyre's work seeks to illustrate her many life experiences suffered through the surgeon's knife as a parallel with the environmental damage to our oceans, both of which she feels suffer their fragilities though often hidden from the public.
"Whilst we continue to improve our knowledge in the disciplines of surgery and body enhancement, we still do not fully understand what lives in our oceans, yet we jeopardise this environment which is closely linked to and affects our well being." She has drawn on her skills using ceramics and raku firings, metal work and found objects to reveal the dilemma of overuse and misuse.
Cohen's work argues the subject that divides opinion in our contemporary world. "On hearing of the imminent reality of travelling to Mars with the probability of finding new resources to allow expansion for our species, it occurred to me that while space travelling is continuing our long tradition of discovery and scientific curiosity, this impending venture could but only repeat the mistakes humanity has made since probably the dawn of our species. We have still so much to learn to make this planet harmoniously liveable again."
Her confident use of mixed media demonstrates her meticulous skill and learning in these mediums.
Kryvoviaza's sculptural banquet feast grabs your attention with design and detail and confronts the viewer with her laboured visual metaphor – "that to come to the festive table is to engage life at a level of passion that we rarely reveal in public"
Her work reflects her life as a woman who has prepared feasts. "I have been privileged to have been born into a lineage of women who have sought to express themselves culturally in elaborate food preparation".
All her work is formed from high fired ceramic clays. "This medium allows me infinite plasticity to create ornate shapes and textures, it also throws unknown variables back during the arduous firing process."
Three individual practicing artists presenting quite different work brought together by a shared passion for using clay and mixed media to express ideas and themes conceptually and with a keen sense of craftsmanship.
Opens Saturday 12 December and runs until Sunday 3 January 2016

The photos above are of some of the artists work