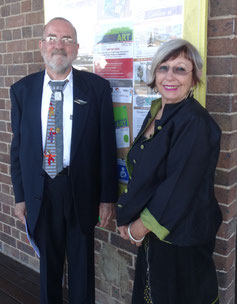 'Think About It' is an exhibition that on first glance you will most likely find immediately attractive but look a little deeper behind the almost haute couture work of Kathleen Hunt and the neatly stacked men's ties of Christopher Hardwick to find a deeper meaning.
Kathleen Hunt and Christopher Hardwick began collaborating in early 2013 with an exhibition at the Noosa Marina Gallery. They encountered in each other deep seated passions regarding sustainability, the environment, social and domestic issues.
'Think About It' is their fourth collaborative exhibition. This work includes Hardwick's visual narratives of domestic violence, male suicide and child abuse while Hunt tackles issues regarding exploitation of natural resources, mammal extinction and pollution of the natural environment in her evocative wearable art.
Hunt and Hardwick are not necessarily making political commentary, simply asking you, the viewer, to think about your actions and how they may impact on others.
This exhibition will open Friday 13 November and run until Sunday 6 December in the Wan'din'in arts space at Discover Eumundi Heritage and Visitor Centre.